Evidently the heat soaking humidity only added greater slip to the already elusive surface of the Parramatta Eels. In 30 degree heat and 70% humidity you just knew that whoever wrestled the majority of possession in the first half, would go a long way to setting the platform for a dominant second half against an defence out on his feet.
Indicative of this theory, you'll remember that with 12 minutes to go in the first half the score was 6-6. Just 25 minutes of game time later and the Eels were up by 30, and that, as they say, was all she wrote.
If nothing else it was good to see the Eels be (relatively) ruthless with a team that troubled the undefeated, table topping Panthers last week and maintain a pretty incredible recent record over an average Brisbane outfit.
The Eels not only managed to avoid an arm wrestle in "anything could happen" conditions, they maintained field position through some smart kicks, held onto the ball with clever options, and exploited a clear weakness in their opposition, running raid after raid to the left corner.
The more this Season goes on, the more professional the Eels are looking; a view that only exaggerates the further back in BA's tenure you go. It's good to see us winning games through strategy, rather than finding our way to luckier victories, constructing wins from more than one or two special moments.
The Eels now comfortably sit in 2nd place on the NRL ladder, extending their NRL best streak of consecutive days in the Top 8.

Nothing against the fine people of Darwin, but gees the weather certainly wasn't ideal for Rugby League.
As an NRL fan, however you slice it, the Broncos were absolutely dreadful tonight, getting absolutely rolled through the middle and cut to pieces on their right edge. In short, anyone wearing Broncos colours not named Payne Haas was straight up poor (not Grading that).
For a bit of historical context, coming into tonight's game, the Broncos had lost their past 12 games away from home, and it had been 400 days since they had last beaten a team not called the Canterbury Bulldogs. Based on their recent form, as soon as Sivo crossed for his second, you just knew that record would extend for at least another week.
With all of that said, as an Eels fan tonight's result is actually terrific.
Other than the scoreboard, a number of the game wide stats were surprisingly close. The Eels had 54% of the ball, completed at 80% (Brisbane 76%) and conceded the same number of penalties (4) and scrums (5) as their opposition.
However, the Eels had a huge advantage in metres gained (2395 to 1631), field position (49 mins of the game was played in the Broncos half) and missed tackles (28 to 54). I guess the 11 Eels linebreaks doesn't really paint a pretty picture for the Broncos, either.
I also loved seeing Cartwright (54), Oregon (38) and Smith (37) all getting some good minutes out there tonight. It's always good to see a coach adapt his gameplan both to the game and the conditions; hats off to BA for doing just that tonight, too. Said fresh legs evidently enabled the Eels to charge through the Broncos defensive line like BA smashed bottles of water. With the squad all playing so well, it certainly will make for some interesting Team List Tuesdays in the coming weeks as Waqa, Matto, Hipgrave, Ray Stone and Michael Oldfield will all increasingly press their claims for their spot in the 17.

You know I could give it to any number of players, including usual suspects Moses, Gutho, Sivo or Papali'i. Bryce Cartwright also had far and away his best game as an Eel (it's his third, for the record). But today's MVP actually goes to Oregon Kaufusi, whose late offload and Johnny-On-The-Spot involvement directly lead to two of the tries that helped break the backs of the Broncos in the first half. It's actually pretty great to acknowledge all his hard work and efforts to get where he is now; a consistent contributor for one of the NRL's heavyweights.
Great to see, MVP.
Also, shout out to David Mead's head for that glorious falcon; also great to see.
Clint Gutherson
1 – Fullback
Like the reek of body odour at a Music Festival, Clint Gutherson was in absolutely everything tonight.
As far as the stat sheet goes it was 17 runs, 176 metres, 2 try assists, 2 linebreak assists, 1 try save, 1 tackle break, 1 try, 7 tackles and partridge in a pear tree. His impact on his team? His ability to always be there when required? His much improved passing game? His flowing locks? Priceless.
---
You could tell he really wanted that 3rd try, and he sure deserved it with all those running metres (196m from 14), tackle breaks (a game high 9), linebreaks (5), bombs caught (2) and offloads (1).
For a power running forward disguised as a winger, that's plenty of movement and effort for the big Fijian, and I think his involvement is one of the most pleasing aspects of tonight's game for the big guy.
He certainly looked pretty stuffed out there, too; and I for one don't blame him.
---
Tom Opacic
3 – Left Centre
Not only was tonight Tom Opacic's 50th game in the NRL, it was also his revenge game against his former club. The Tommy Gun not only managed to drop a pretty nice four pointer on his ex, he also ran for more than 100m (108), had 2 linebreaks, 1 linebreak assist, 5 tackle breaks, 17 tackles and was usually the first guy there to congratulate Maika Sivo on all of his tries. OPA!
---
Marata Niukore
4 – Right Centre
You need someone to play middle or edge forward? Marata can.
Do you need a defensive centre? Marata can do that.
Need someone to run through opposition tackles? Marata's your man.
Need someone to leap for a bomb? Marata can.
Need someone to help you bury a body? Are you crazy? Don't murder people.
All in all, Marata Niukore is playing terrific football in Season 2021. The man is as cool as the other side of the pillow.
---
Blake Ferguson
5 – Right Wing
A sneaky monstrous performance from Fergalicious, getting through 21 carries for 182m, 2 offloads, a linebreak as well as an incredible 8 tackle breaks. Coming into tonight's game, Blake Ferguson led the NRL with 12 errors, so hats off to him for keeping it that number as is in the greasy Darwinian conditions.
Give me your heart, make it real or else Fergo about it.
---
Dylan Brown
6 – Five Eighth
It wasn't perfect, and I'd like to see him work a bit more magic with that right edge, but overall I thought tonight was Dylan Brown's best game of the season so far; 13 runs for 125m, 4 tackle breaks and 24 tackles, none more important than those on Haas and TPJ.
Evidently there was more than one Brown Snake on the loose in Darwin.


---
Last week I questioned whether or not Mitchell Moses would be able to back up his career defining performance against the Raiders with a controlled and similar dominant display.
The answer? Well, yes. Yes he can. It was once again a case of a terrific kicking game (12 for 385m), a controlled passing game, a timely running game (9 for 59m) and the addition of another try assist, linebreak assist and even a try save for his work holding up one Tevita Pangai Jr.
On that note, The Prince of Egypt also did an incredible job to not only stop Jamayne Isaako's post Eels error linebreak, but then also stop Herbie Farnworth after he was provided the offload; brilliant play from the 7.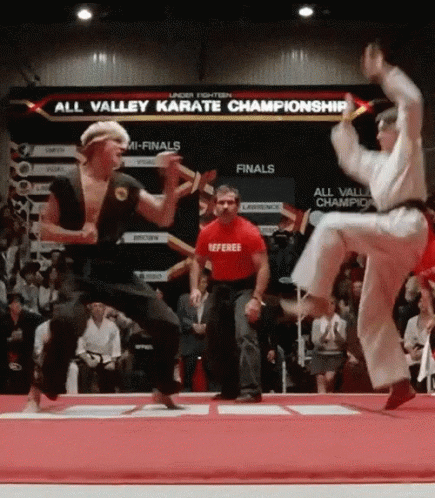 Finally, how about that wild kick from Mitchell-san in the 77th minute? Said kick not only sent his Captain over for the final try of the match, it also assured the Broncos of yet another Cobra Kai-esque defeat at the hands of the good guys. Right in the face.
---
Producing yet another solid performance (11 runs, 105m and 24 tackles) I think we can soon enough officially chisel Reagan Campbell-Gillard's name to the now lengthy stone list of astute purchases made by the Parramatta Eels.
---
Despite the greasy conditions, Reed Mahoney was once again very good tonight, nabbing 2 try assists, 2 linebreak assists, 41 tackles and a kick for 57 metres. With that said, it was admittedly a pretty average pass across the front of Blake Ferguson, but even superheroes have off days.
---
Junior Paulo
10 – Front Row
The puny TIO Stadium is simply far too small to contain Junior Paulo's gargantuan running game. Running around for 50 minutes in the energy sapping Territory humidity, Junior waltzed his way to 106 running metres from his 11 hit ups, adding 3 offloads, 2 tackle busts and 21 tackles.
---
Shaun Lane
11 – Second Row
I see you, Shaun Lane, fulfilling your "missed chance for an early try" quota for the second week in a row, alongside your 11 runs, 74 metres, 1 tackle break and 25 tackles. Not Laney's best, but certainly not his worst, either.
Little known fact: Shaun Lane once landed one of the lead roles of a Riverside Theatre production of the 'Jack and the Beanstalk'. Let's just say, he wasn't cast as Jack.
---
Isaiah Papali'i
12 – Second Row
Not even a sapping Darwin heatwave could melt the glacial dominance of Ice Papa. An enormous 14 runs for 129m, a linebreak, 5 tackle breaks, and 22 tackles tonight; maintaining his destructive momentum in Blue & Gold.
It's so obvious that Isaiah Papali'i is the value buy of the season that Steve Roach gave him 2 Dally M points in the Titans Bunnies game.
---
Again, it's not like it was a bad game from Nathan Brown (74m from 9 runs, 2 tackle breaks and 23 tackles), it just wasn't to the standard of the other blokes in Blue & Gold that surrounded him. On one hand, Cyborg played a pivotal role in several Eels shifts, particularly in successful raids to Sivo's side of the field. On the other, he also took a really poor option to toss the ball back to in the direction of a flat footed Reed Mahoney early in the first half. There's a little bit of rocks and diamonds about his form at the moment; one could surmise he really needs to sort his future out pretty quickly.
---
Oregon Kaufusi
14 – Interchange
Tonight was far and away the best game of the season for Big Country, and one of the best of his young career. As I said earlier, not only did he get himself extended minutes in the middle (38), Oregon also ran for a mammoth 136 metres from his 15 carries, runs so hard you could hear the bones of the opposition players squealing with every brutal collision.
Kaufusi also added a linebreak assist, 4 offloads, 2 tackle breaks, 11 tackles and a nice little try to the stat sheet and locked up his first ever Post Game Grades MVP. Hoorah!
---
Will Smith
15 – Interchange
I once fell into Will Smith's dreamy eyes and woke up a week later at a bus stop in Bonnyrigg. Stay alert, people.
---
Wiremu Greig
16 – Interchange
You'd think the Broncos forwards would have been pleased to see Junior, RCG and Cyborg head to the bench mid way through the first half; however, I suspect that relief must have only lasted a moment when boy giant Wiremu Greig entered the fray. Someone call the SES; the former NQ Cowboy is a straight up natural disaster for opposition defences.
As I noted last week, until Wiremu Greig gets a more official Eels profile picture, I will continue to use a photo of Wiremu Tamihana, the man largely responsible for establishing the Maori King movement in the 1850s. You can learn more about him, here.
---
Bryce Cartwright
17 – Interchange
We always talk about Bryce Cartwright finding the balance between rucking it up and finding his offload opportunities. Tonight, I thought Constanza got it almost perfect, striking a nice balance between his running game (95m from 12 runs), whilst also providing a nice last pass for Sivo's second try, the Mitch to Gutho movement, and nabbing his first four pointer in the Blue & Gold.
That must be the Bryce Cartwright that BA foresaw when he signed him, and the one Sixties hasn't shut up about since pre-season. Great to see.
---
---
You know, I think that game went really well.
Actually B Robn, we're now 6-1 in the Northern Territory, mirroring our 2021 Season record. I wouldn't call that 'up and down', at all.
You know, Season 2021 is already much more fun than 2020 ever was.
This week Eels flew into Darwin, waved to the crowd, respected our ANZACs, did what they needed to do by taking care of a weaker side in fine style. Next week we need to do the latter again as we come up against the aforementioned winless Bulldogs.
Whatever happens, I'll see you then, sports fans.
Go you Eels,
Mitch
Photos courtesy of the Parramatta Eels. Stats courtesy of Champion Data.