It's the final week of the regular season and sadly for the Parramatta Eels, their journey in the NRLW will come to a conclusion for 2023. It is fair to say they have struggled for consistency after shocking the competition last year and making the grand final from out of nowhere, A new-look roster has battled hard to win games and find consistent form, but they have been beset by injury, suspension and a litany of errors every week.
A loss against the Sharks today would guarantee a wooden spoon – the first for the club in this competition. With the Roosters toweling up the Cowboys earlier this round, the goal is now set at not only a win but by the healthy margin of 24-points if our girls are to avoid finishing last.
The Sharks will not be pushovers by any means mind you. While they may have fallen short of high expectations set upon them in their inaugural season, Cronulla are still a well balanced roster that feature a pair of sparkplugs in Jada Taylor and Emma Tonegato. They are playing for pride in Round 9 and given how many ex-Eels are in their line-up there could be an extra layer of spice to the game.
Game Info
Date: Sunday, September 17, 2023
Kick-off: 1 PM AEST
Venue: GIO Stadium, Canberra
Referee: Darian Furner
Broadcast: Channel Nine and Foxtel
Live Stream: Kayo & Nine Now
Team Lists
Parramatta Eels
1. Abbi Church 2. Zali Fay 3. Lindsay Tui 4. Cassey Tohi-Hiku 5. Kimberley Hunt 6. Pihaku Berryman-Duff 7. Rachael Pearson 8. Talesha O'Neill 9. Rueben Cherrington 10. Tyla Amiatu 11. Amelia Mafi 12. Mahalia Murphy 13. Kennedy Cherrington 14. Taneka Todhunter 15. Noaria Kapua 16. Ruby-Jean Kennard-Ellis 17. Jade Fonua
18. Nakia Davis-Welsh 19. Monique Donovan 20. Madeline Jones 21. Kyra Simon 22. Capri Paekau
Dean Widders has named an unchanged side from last week's 28-22 loss to the Gold Coast Titans.
Cronulla Sharks 
1. Jada Taylor 2. Georgia Ravics 3. Tiana Penitani 4. Annessa Biddle 5. Cassie Staples 6. Emma Tongeato 7. Tayla Preston 8. Ellie Johnston 9. Quincy Dodd 10. Tegan Dymock 11. Talei Holmes 12. Vanessa Foliaki 13. Holli Wheeler 14. Serena Naitokatoka 15. Harata Butler 16. Brooke Anderson 17. Chloe Saunders 
18. Maddie Sutton 19. Fatefehi Hanisi 20. Kiana Takairangi 21. Fiona Jahnke 22. Grace-Lee Weekes
For the Sharks, Tony Herman has also not changed his side from last week's victory against the St George Dragons. Holli Wheeler was not suspended, as she accepted the Dangerous Contact charge for a tackle in Round 8.
The Game
Like their titular mascot lurking in the shallows, the Sharks can torment a defensive line with their ability to attack the short side. Emma Tonegato has 87 line engagements – the most in the league this season. It isn't a matter of if or even when, she will relentlessly test the defence with her running game. Throw in her silky hands and ability to generate and exploit overlaps and the Eels have an easy mark for one of the Sharks' biggest threats.
A former Eel is up next in Tayla Preston. She has found a new home in the Shire and will be working alongside Tonegato in the halves. Preston has accumluated the most kicking metres in the competition and is a natural foil to Tonegato. Parramatta's back three will need to be vigilant in order to minimise her impact in the battle for field position. Furthermore, applying pressure in defence will impede her ability to organise and distribute and could be important in disrupting Cronulla's attempts to get the ball to Tonegato in favourable shapes.
Cronulla's forwards have laid a reliable platform over the course of the season and led the way in strong post-contact metres this year. If Parramatta aren't up for the wrestle in the ruck they will be run over in Canberra today. The onus will be on Kennedy Cherrington and Tyla Amiatu to take charge here but it will take a concerted effort from all the middles if the Eels are to maintain a foothold in the ruck.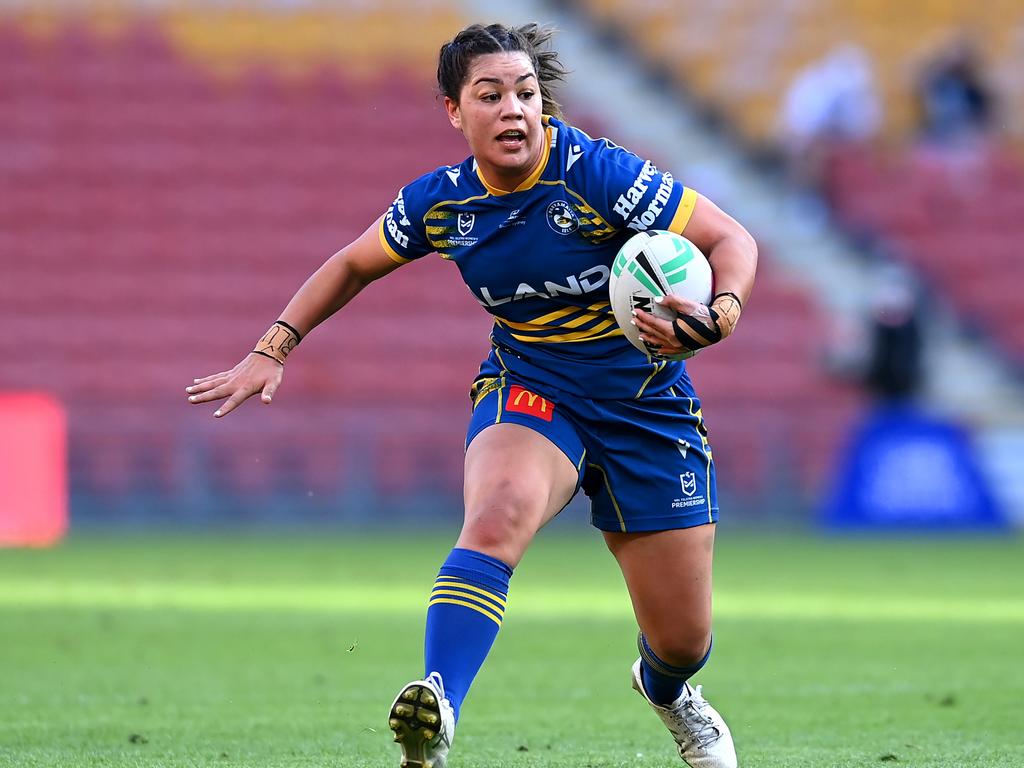 Doing so is critical because Quincy Dodd is a noted running threat from dummy-half. She will be keeping a sharp eye out for any opportunities to capitialise on a quick ruck. There is every chance she will look for a cheap try when attacking the goal line as well so if the Eels go to sleep at any point she will punish them.
For Parramatta, Rueben Cherrington and Taneka Todhunter will need to provide some sparks of their own. While we have seen glimpses of it from Rueben through the course of this season, I don't think the Eels have taken full advantage of their opportunities there. For that to happen they will need to marshall their middles to be pushing over the advantage line and then be decisive and incisive in their running.
It has been a long campaign for the Eels and they have struggled to go blow-for-blow with the Roosters and the Titans over the last fortnight. While I do think they can still knock over the Sharks with a strong team effort, there have been too many issues with spilt possession and concentration lapses. I'll be tipping a narrow win by Cronulla to close out the season.
Prediction: Sharks win by 6+
Player of the Game: Emma Tonegato
Kye Ferreira