The Eels got in and got out with a 22 point victory against the Dogs, who had been priding themselves on being a little bit of a bogey team for Parra. Despite a couple of nervous moments, tonight's victory effectively avoided the more typical, grind it out, down and dirty, stick your face in the mud games we've seen featured against the Blue & Whites in recent seasons.
We also now sit with a 7-1 record and regain our rightful 2nd spot on the NRL ladder, behind the unstoppable Penrith Panthers, a team yet to taste defeat this season, and who have won 25 of their last 26 (the loss was of course, last year's Grand Final – ouch).

First and foremost, the Nathan Brown injury is a huge blow to the Eels; but the news that he might only be out for 2-4 weeks (thanks to Twitter legend, NRL Physio) is almost enough of a relief to put this in The Good.
The Eels were pretty sloppy in attack tonight, not so much in shape as they were in ball handling; a total of 15 errors is pretty average stuff, particularly considering they only had 12 errors in the hyper humid Darwinian conditions of Round 7.
In other news, the NRL world saw Trent Barrett shed a tear after his first win of the season last week, but I bet he shed a few more watching Luke Thompson's defence in the middle; first missing Reed for Gutho's first, then an absolutely paltry attempt for The King's second. He is one of the Dogs' best in the middle with ball in hand, but those were some of his lower moments tonight.
In the stats department, Gutho, Moses and Reed had six try assists between them last week against the Broncos (adding another 2 tonight), whereas coming into tonight's clash the Bulldogs 1, 7 and 9 had six between them all season. I don't want to sound harsh or high and mighty, but I reckon BA will be pretty filthy the Eels let those two tries in.



Despite having periods of absolute dominance in possession (at one stage late in the first half the Eels were enjoying 70% of the ball; the Dogs didn't get tackled in their attacking 20 until the final quarter of the game), the Eels ended up with a mere 52% of possession overall (it was 50/50 in the second half).
The Eels also had advantages in field position (48 minutes of the game in the Dogs' half), running metres (2477 to 2005), tackle breaks (33 to 19); but fell behind in completion rates (72% to the Dogs' 75%), penalties (3 to 5) and errors (15 to 11).



Who else?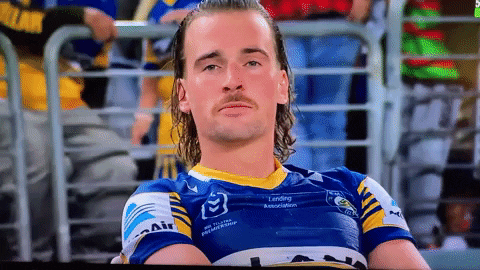 Clint Gutherson
1 – Fullback
Imagine running 20 times for 250m, scoring 2 tries (his career 50th and 51st, for that matter), having a linebreak, 2 linebreak assists, a try assist, making 6 tackle breaks and getting all that done in only 72 minutes.
I know I can't.
Then again, I wouldn't even be able to stand still on an NRL field for 72 minutes.


---
Some wingers run with grace, gliding their way up the field like gazelles. Think Daniel Tupou, Jason Saab, even Waqa Blake when he finds space.
Maika Sivo is not one of those wingers. As far as wingers go, he is a dump truck. A tank. A bulldozer loose on a football field. This was very much on show when he somehow barged his way over despite the attention of 5 Bulldogs.
Tonight the Fijian Scud Missle had a couple of tries, ran 13 times for 120 metres, and also had 2 linebreaks, 4 tackle breaks and 4 tackles.
Trivia – With tonight's first four pointer, Maika now has scored at least one try against all NRL teams (with the exception of the Parramatta Eels). Pretty handy for a bloke who's only been playing for two and a bit years.
---
Tom Opacic
3 – Left Centre
Another sneaky good game from old Thomas Opacic, getting through 12 runs for 108 metres, 5 tackle breaks, 1 offload and 18 tackles. To be honest, I have never seen any need for us to spend so much money on the centre position (for example, by signing Kotoni Staggs). Opa is admittedly not on the same level, but in my opinion much better value and allows the Eels to spend their cap space on more important positions (like upgrading Ice Papa, Mitch et al.). The man runs a good line and defends really well; and I think that's what the modern salary capped game requires from centres.


---
Marata Niukore
4 – Right Centre
Remember that time Marata absolutely monstered Corey Allan back into the Dogs' in-goal in the first half?
When your boy kills a guy, then goes on and scores a try, that's Niukore.
---
Blake Ferguson
5 – Right Wing
In recent weeks, Blake Ferguson has almost been worth the price of admission alone, whether you were an Eels or opposition fan. Good or bad, things happen around him, whether a scintillating try or absolute disastrous drop. So in some respects it was nice to see Fergo finish tonight's game with a relatively bland (read: solid, but unexciting) 17 runs for 169m, 2 tackle breaks and 4 tackles.
Also, how about the head on the bloke?
---
Dylan Brown
6 – Five Eighth
The stats were still there (7 runs for 88m, 1 linebreak, 1 linebreak assist, 1 try assist, 29 tackles, but 3 errors), but I must say it was strange to see one of the best defensive halves in the NRL miss a tackle in the 49th minute in the manner that he did; with Dylan being caught out turning his shoulders to the outside. This momentary lapse allowed Jake Averillo to slip past him and run away to score the Dogs' first.
The young bloke is in a bit of a rut in 2021; which is also strange to say as I think as a team the Eels look just about as good as they have looked at any point since 2009.
I'm sure the switch will flick soon enough.


---
What contract situation? Although it's not finalised just yet, soon the Eels will apparently announce Mitchell Moses has extended for either 3 or 4 more years in Blue & Gold; a wonderful signing for one of the pillars of the club's success. Tonight was yet another controlled performance from the Prince of Egypt, a statement true of all 7 of our victories in 2021. In particular, Mitch demonstrated a kicking game you could set your watch to (16 kicks for 529m). With that said, I suspect it probably helped that the Dogs almost refused to pressure him once Dylan Napa almost broke his legs.
---
I know he's an emotional guy, but starting the game with a different front row partner didn't seem to phase RCG, still getting through a very solid 13 runs, 155m, with 2 tackle breaks and 30 tackles.
Mo, Mo, Mo your boat.
---
Whether you're watching him kick for touch, scoot out of dummy half or pass from the ruck; you cannot deny that Reed Mahoney is in career best form.


---
Oregon Kaufusi
14 – Front Row
Well, well, well; look who finds himself in the starting lineup – he's my mate, he's your big cuddly companion – Oregon Kaufusi. And it was great to see him not only out there, but relishing the opportunity with 14 runs for 118m, an offload, 1 tackle break and 19 tackles.


---
Ryan Matterson
15 – Second Row
It was a very welcome sight to see Matto get through 13 runs, 114m, an offload, 1 tackle break and 39 tackles tonight in his return from a concussion suffered in Round 2. He also seemed in very good spirits in his pre-game interview.
Welcome back, mate.
---
Isaiah Papali'i
12 – Second Row
Looking more and more like a man who spends his night sleeping under a bridge, Isaiah Papali'i's facial growth is as dominant as his footballing performances. Against the old foe Ice Papa went for another 18 runs, another 177m, 3 offloads, 1 linebreak assist, 1 try assist, 4 tackle breaks and 45 tackles.
Wait, what do you mean he didn't score a try?
---
We feared it was his achilles, or even the dreaded ACL; thankfully Browny only has a case of the hippy hippy shakes. Hopefully see you back on the field in 2-4 weeks, champ.
---
Junior Paulo
10 – Interchange
Coming off the (reinforced) bench, big Junior Paulo barely broke a sweat getting through 12 runs for 111m, 19 tackles and I don't know what to do with my hands.
---
Shaun Lane
11 – Interchange
Shaun Lane came off the bench tonight to concede a penalty, drop a ball and get smashed by Ava Seumanafagai; almost nabbing 9 runs for 95 metres and a tackle break in 42 minutes.
Right now, it is quiet in a darkened ANZ Stadium. But if you look closely, by the light of the moon, you can still see the tall, slender figure of Shaun Lane, out wandering the field, searching for the remains of his rib cage.
With that haircut starting to grow out a little, I can't decide whether he looks like a criminal or a like a 52 year old retired cop named Kurt. Let me know in the comments below.
---
Haze Dunster
16 – Interchange
Nabbing 12 minutes, tonight Haze Dunster played his second ever game of NRL and had 4 runs for 39 metres. He was also asked to make one tackle. Despite some shaky defensive form in NSW Cup in recent weeks, I can't imagine he lost any admirers tonight.
---
Bryce Cartwright
17 – Interchange
For the second week in a row, Bryce had what English speaking French would call "a very good game".
Costanza is apparently getting the memo, getting through 5 runs for 48m, but more importantly making 24 tackles without a miss, whilst also nabbing 2 try assists and a linebreak assist.
---
---
Next week, the Eels turn the pressure cooker right back up to ten as we face the high-flying Sydney Roosters at Bankwest Stadium. Last time we faced the Chooks at home, James Tedesco was given an all expenses paid trip to la-la land by Maika Sivo's upper body, but alas we still came away without the chocolates.
The Blue & Gold will no doubt be hoping for a different result in Round 9, as we look to improve our 2021 record to 8-1.
Whatever happens, I'll see you then, sports fans.
Go you Eels,
Mitch
Photos courtesy of the Parramatta Eels. Stats courtesy of Champion Data.